The
Apache Longbow
, delivered in July from The Boeing Mesa, Ariz., facility, is the first of a 16 Apache foreign military sales order with the
U.S. Department of Defense
for the Kuwaiti government. The aircraft will remain in the United States until next year to undergo a series of qualification tests.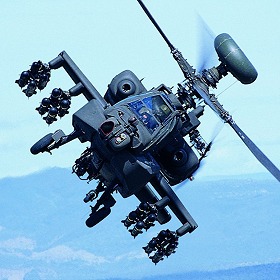 "From the initiation of the foreign military sale, through production of the first Apache, the program has benefited from the close working relationships between the U.S. Army, Kuwaiti government representatives, Boeing and the other Apache industry teammates," said Bob Burns, the Boeing program manager for the Kuwait Apache program.

Maintenance personnel from Kuwait are currently in the U.S. for training, and will be followed by Kuwaiti pilots later this year. No firm in-country delivery schedule or contract details have been announced. Kuwait 's ministry of defense initially signed a letter of offer and acceptance with the DoD in 2002, making Kuwait the seventh international defense force to select the
AH-64D
and the 11th Apache customer worldwide.
Read More ....
Posted by News Blog re-Blog Team |


« Home | Is Dubai's Gulf News Coming to Bahrain? » //-->
Add a comment: