Due to the exceptional weather conditions impacting the Mumbai area and in particular the disruption this has caused at
Mumbai airport
,
Gulf Air
has been advised by the local
Indian Civil Aviation Authorities
to suspend all flights from and into the airport until further notice.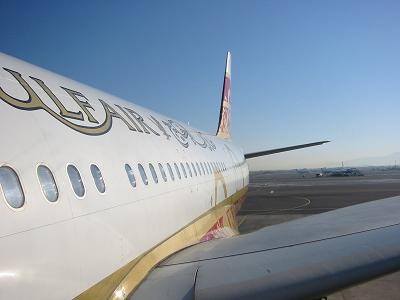 The airline has no aircraft stranded in Mumbai and flights to other Indian cities are operating as normal. Earlier today, Gulf Air said that they sincerely regret any inconvenience caused to passengers and is monitoring the situation closely and is keeping everyone advised accordingly. No time line has been given as to when services can be resumed. Any passengers wishing to change their flights or requiring updates should contact their local travel agent.

UPDATE - July 29th, 2005 @ 2.30am:
In a press statement (late last night) to Soman Baby of the Gulf Daily News, Gulf Air was quoted as saying that 'it had been given clearance by the Indian Civil Aviation Authorities last night to re-start flights'.
Posted by News Blog re-Blog Team |


« Home | Al Jazeera Mobile service launched in Bahrain » //-->
Add a comment: